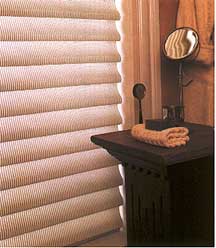 Another triumph in style and innovation from Hunter Douglas, Vignette is unlike any alternative window covering. Because is lends a unique look and feel to a room, it's the perfect choice when your customer desires a change in decor.
Vignette window shadings feature a combination of a soft knit rear fabric and a flowing woven front fabric. The front fabric is attached to the rear to form graceful folds which overlap each other like billowy waves. Specially designed fabrics ensure that Vignette shadings will retain their shape and fullness for years to come.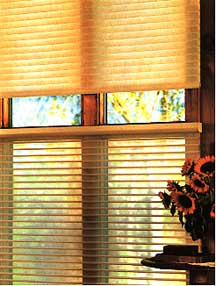 Silhouette window shadings combine the best characteristics of curtains, shades and blinds to create a remarkable design that is distinctively different from any other window fashion.
The unique look of Silhouette is created by soft vanes suspended between sheer facings. When a shading is completely lowered, the floating vanes are easily adjustable. They can be opened wide for a full, soft-focus view; closed for privacy; or tilted for light control-the soft way. The Silhouette hardware system is engineered for easy lifting, and smooth, quiet operation. The headrail, operating cord, and components are color coordinated to the fabric, further adding to the beauty of this revolutionary window covering.
Silhouette also comes with the PoweRise system.