Top quality 1" horizontal aluminum window covering for exposed headrail commercial applications.
• DustGuard
• Valance-free design
• Concealed mounting system
• Headrail: 1.475" high x 1.625" wide

with crowned underside profile
• Enclosed bottomrail with bottom

bumper
• Nominal .0085" slat thickness
• 15.7 slats per foot
• Guardian Tilter disengaging clutch

mechanism
• Lifetime warranty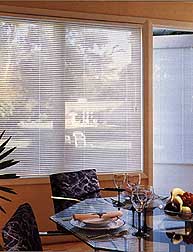 Levolor,® the industry leader in quality window treatment systems, has provided innovative designs for over 70 years. We now offer the solution that eliminates the barrier a closed blind creates between you and the outside. The new Sheerview blind offers an external view even when you close the blinds. By incorporating subtle perforations in the slats, SheerView lets natural light filter into your room while reducing glare. The next time you consider closing a blind to shut out unwanted light but hesitate because of losing the view, don't hesitate to consider the SheerView blind.