• EvenPleat Shades are made with

more fabric per shade for increased

privacy and light control.
• EvenPleat styles include natural fiber
blends and energy saving fabric


with metallized backings.

• Privacy or blackout liners may be

layered under most styles for

increased privacy and room

darkening.
• Very small cord route holes

increase privacy, minimize light

leaks.
• Graber offers vertical blinds to

coordinate with many popular

EvenPleat styles.
• EvenPleat Shades are easy to care

for, just vacuum periodically.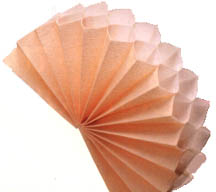 • A single, continuous loop cord

controls the shade while always

remaining the same length.

• A powerful clutch actually

provides a mechanical boost to

help lift the shade's weight, so

raising large shades requires less

effort.
• The clutch stops and holds the

shade precisely at any height.

EasyUp stacks the fully raised

shade more compactly than a

conventional cordlock.
• The EasyUp option is especially

recommended for shades sizes

28 sq.ft. or larger.