Our Originals Collection offers more fabrics,
pleat sizes, cell configurations, light control
options, colors, and design options than any
other honeycomb brand.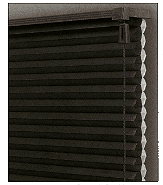 Soft Light Control. Whether your customers want complete privacy or sunlight filtered through a beautiful sheer fabric, you'll find fabric options ideally suited to their light control needs. Choose from four distinct degrees of privacy and light shading... from sheer to semi-sheer, semi-opaque to opaque.
Colors, Textures and Prints. Pale pastels. Sumptuous jewel tones. Dark, dramatic colors. And there's texture, too, in the warm look of linen in our semi-sheer, and the delicate lace of our sheer fabric. Or opt for the drama of prints, the refined patterns of swirled marble, or the flawless texture of granite. Consider the subtle plume and cobra patterns in the popular 2" honeycomb pleat size.
Versatility and Variety. This impressive range of opacities, pleat options, colors, textures and prints makes Duette the industry leader in versatility and variety.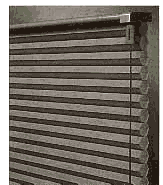 • Chelsea. Three tasteful patterns in a semi-opaque fabric - Pinpoint (contemporary dot print), Rattan (natural wicker pattern), and Tweed (classic texture). The color palette for this fabric is neutral and refined.
• Soho. An intriguing semi-opaque fabric with the appearance of textured linen. Available in an extensive range of subtle natural tones, from white and cram to soft tan and warm brown.
• Gramercy Park. A beautiful semi-opaque woven fabric with the look and feel of raw silk. Offered in a fresh selection of soft pastels and neutrals that are suitable for any decor.
• Park Avenue. In smooth, silky woven fabric, Park Avenue is a sophisticated semi-opaque fabric that filters light. color choices include a broad range of warm pastel tones.
• Park Avenue Eclipse. In soft opaque solids, Park Avenue Eclipse not only blocks 99% of the outside light, but also provides maximum protection from harmful UV rays.